What Floor Cleaning Products Should You Be Using?
A well-rounded cleaning system can make everyday routines a lot easier, but vacuums and attachments alone will only go so far. Ideally, these should be complemented by high-level cleaning solutions, which are designed to tackle specific concerns from various parts of the home. These floor care essentials can handle everything from carpet to hardwood and even grout, making once-dreaded tasks feel effortless. Combine these with the right brush roll for stellar cleaning results.
Struggling to find the best floor cleaning products? Keep reading for an overview of the most effective floor cleaning methods — and the floor cleaning solutions that can lead to a sparkling interior.
Carpet Shampoo
Everyday vacuuming is sufficient for removing loose dirt and debris, but what happens when this gets embedded in rugs or carpets? A carpet shampooer is a must for preserving the appearance of rugs and carpets far into the future. This eliminates trapped allergens, limits the potential for mold, and, in general, makes the entire home look and feel more inviting.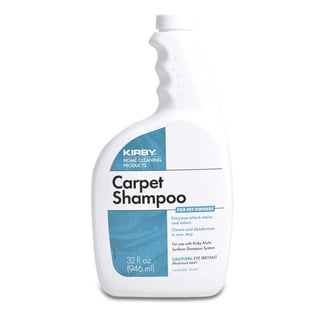 With Kirby vacuums, carpet shampooing begins with the Multi-Surface Shampoo System, which draws on the power of foam to emulsify stubborn dirt and grime. The system's tray then collects the foam, which can be discarded in the sink.
The right shampoo makes all the difference, as this provides a targeted foam rather than excessive saturation with soapy water. Kirby's professional-strength shampoo incorporates a dry-foam process designed to prevent excess moisture. What's more, encapsulating polymer formulation bypasses the common problem of sticky residue, which so many shampoos tend to leave behind. Pet owners will be happy to discover that Kirby also offers a special carpet shampoo for pet owners, formulated to attack the dirt and odors left by four-legged friends.
Carpet Freshener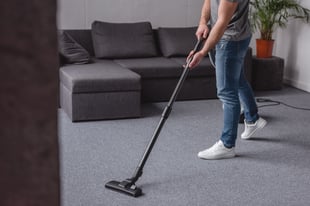 Shampooing is necessary once every few months, but what if carpets need a little extra attention in between shampooing sessions? This is when carpet fresheners can be helpful. These amplify typical vacuuming efforts by eliminating trapped odors. Carpet fresheners are easy to use; simply sprinkle on a light layer prior to vacuuming and then let the product work its magic. This can be vacuumed quickly to leave both the carpet and the vacuum bag smelling wonderfully fresh.
Floor Polish
Shampoos and fresheners tackle common carpet concerns, but hardwood floors also need specialized care. This looks a bit different from typical carpet routines, however. With hardwood, the goal is to provide an appealing shine while also avoiding unsightly scratches. Floor polish is typically the go-to solution, but traditional methods of applying it can be downright inconvenient.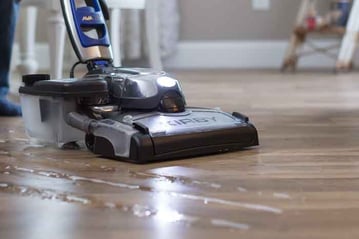 A better option for making gorgeous hardwood surfaces shine? Implementing a genius combination: the Miracle Shine rotary brush (from the Multi-Surface Shampoo System) and the Miracle Shine Floor Polish. Together (and with the addition of a replacement belt) these make up the Miracle Shine Kit, which is specially designed to apply a high-gloss finish to hardwood floors. This is an amazing alternative to traditional floor cleaning techniques like the typical mop and bucket and should ensure that hardwood floors look stunning.
Tile and Grout Pre-Treat
Tile and grout are notoriously difficult to clean. There's no need to toil away on hands and knees, however. Once again, this task calls for the versatility of the Multi-Surface Shampoo System, which, as its multi-surface descriptor indicates, is great for many types of flooring. Grime on tiled floors means that attention is needed from the grout brush roll, which is perfectly suited for uneven surfaces.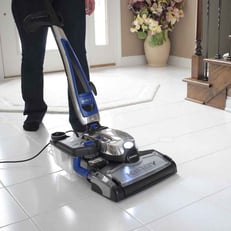 Be sure to add a special clearing solution to the mix: the Tile & Grout Pre-Treat, which works wonders on stubborn stains. Like Kirby's carpet shampoo, this manages to avoid the sticky residue that accompanies so many other cleaners. The process is simple: apply the pre-treat solution directly to grout joint prior to cleaning. This should loosen dirt so that it can more easily be cleared away by the floor cleaning system. Follow up with the specially designed brush roll and watch in amazement as the most difficult dirt disappears from tricky grout joints.
Upholstery Cleaner
While the products discussed above are primarily meant for floor cleaning, there are also options worth exploring when dealing with other important surfaces. Upholstery, for example, often calls for a deep clean. This is easily achieved when using various Kirby attachments.
For a more thorough clean, try the Zipp Foam solution, which works well on both upholstery and carpet. This should be paired with the beloved Kirby Zippbrush for an ultra-deep clean. This air-powered spinning brush is notorious for its ability to remove embedded pet hair, but its powers take another step up when combined with the right foam solution.
Level Up Your Cleaning Routine
Choosing the right floor cleaning products can lead to the ultimate transformation: dirty, dusty, and dingy floors become spotless, showroom-clean areas. A little time spent researching and investing in high-quality floor cleaning supplies will more than pay off in the long run, so don't wait to develop a well-rounded collection of cleaning essentials.