Spring Cleaning Tips For Hardwood Floors | Cleaning Tile & Grout
Spring cleaning can be a delightful annual obligation or a dreaded series of never-ending chores, depending on who you ask. Either way, it's a vital part of our yearly routine.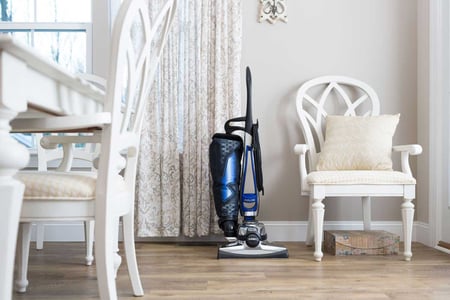 seasonal tradition encourages us to embrace all things spring as we enjoy both an emotional and real-world refresh.
Since our surroundings greatly impact our state of mind, a farewell to cabin fever can be much more impactful with a deep clean. This means banishing clutter and washing the windows — but if you look down, you'll notice that your hard floors also need attention.
Chances are, you leave tile and hardwood in favor of a quick once-over for your rugs and carpets. Your trusty vacuum does a great job of removing dirt and debris from these soft surfaces, but why stop there? With a high-end vacuum such as the Kirby Avalir 2, you can tackle both types of flooring.
Ready to make your floors shine? Below, we've compiled the best hardwood floor cleaning tips to streamline your annual regimen.
What Is the Best Way to Clean Hardwood Floors?
Tracking in mud is inevitable during the early spring months, but you can keep the mess to a minimum with a solid hardwood cleaning routine. You take pride in your gorgeous hardwood floors and want to preserve them, so they continue to shine for years.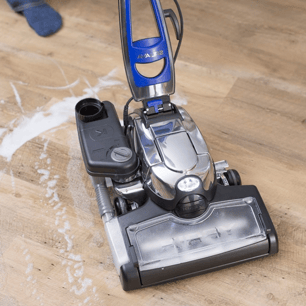 First, identify whether your floors are covered by dry dirt, wet dirt, or a mix of the two. Crumbs, sand, and other solid particles can be referred to as 'dry.' These are most easily cleaned by running your vacuum on hardwood surfaces. Remember, there are attachments designed to address every dirt-covered nook and cranny.
Next up: wet dirt, which likely began as soil or mud, can be an exceptionally stubborn mess. Unlike dry dirt, the wet variety does not sit loosely atop your hardwood and does not respond to a 'typical' vacuuming regimen. Instead, you'll need to follow through with a dedicated shampooing system that incorporates impactful cleaning solutions.
The Kirby Multi-Surface Shampoo System is a great option. It tackles the most problematic areas with ease using its specialized brush rolls, which have been strategically designed to work miracles on hard floors.
Amplify the effect with a hard floor cleaner. When addressing linoleum or large rooms, your best bet involves hard surface concentrates, which can be added to your shampoo system tank to deliver a deep clean. A simple spray-on should work wonders for small spaces.
What About Tile & Grout?
High-traffic areas such as kitchens and bathrooms see a lot of wear and tear during the winter months. As spring arrives, it becomes impossible to ignore stained grout and dull tiles. This year, skip your old-school mop and try a comprehensive cleaning system that will make your floors feel like new.
The Kirby Multi-Surface Shampoo System makes a world of difference. This process looks a bit different in the kitchen and bathroom, as tile calls for a strategic approach.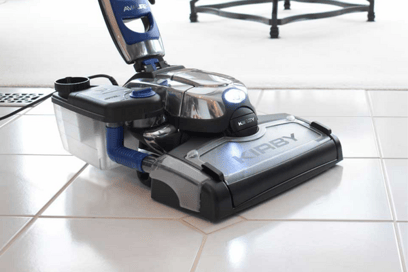 Begin by installing a specialized brush roll into your multi-surface system. This brush roll is designed to handle the unique concerns presented by tile and grout concerns. Uneven surfaces, for example, call for specialized brushes featuring bristles that vary in length. These may include long, rigid bristles for the deep scrubbing of grout joints, plus shorter bristles that clean the tiles' surface.
Next: apply a dedicated tile and grout cleaner. The best cleaning products release the stubborn, caked-on grime that clings to both tile and grout. The final result is a lustrous surface that shines like new. Strategic selection is crucial, as the wrong products could leave unsightly residue on your floors. When the proper solution has been applied, you can scrub with your shampooer and specialized brush roller, just as you would when tackling hardwood floors.
How Often Should I Clean Hard Floors?
Springtime messes require you to pay extra attention to hardwood floors — but following that initial deep clean, you can scale back your efforts and focus primarily on maintenance. While cleaning needs will vary significantly from one home to the next, a general rule of thumb involves vacuuming both carpet and hardwood at least once per week. From there, you can follow through with a quick shampooing once every month.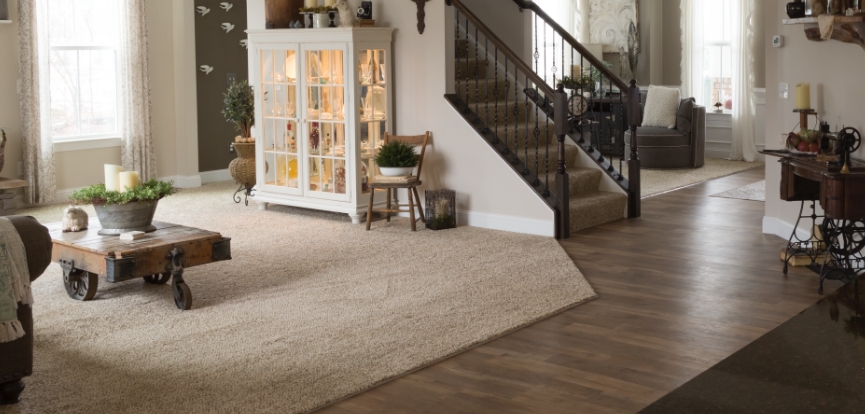 Tackle Spring Cleaning With the Kirby Avalir 2
Spring cleaning can feel overwhelming. With the right tools, tasks that seem burdensome could be completed in no time, leaving you free to actually enjoy the warmer weather.
The value of high-end cleaning equipment could not be more evident than with your hard floors, which respond wonderfully to the targeted cleaning systems from Kirby. Look to Kirby's comprehensive floor cleaning solutions to tackle all of your rug, carpet, hardwood, and tile cleaning needs.