Tips To Help Eliminate Foul Odors And Keep Homes Smelling Fresh
Undesirable odors are one of the few issues that can make any home feel unwelcoming. Whether these odors are strong or faint, they detract from the relaxing experience within the home. Thankfully, there are plenty of solutions available that are easy to implement. Below, we've revealed how to make your home smell good when odor is a problem — and how to keep the house smelling good over time.
The Power of a Fresh-Clean Home
A clean home isn't just about spotless surfaces; it starts with the air we breathe. Unpleasant odors make even the tidiest spaces feel unwelcoming. Imagine inviting friends over, only to have them greeted by a lingering smell. Over time, we get used to these odors, but for guests, they are often off-putting. A home that smells fresh and clean elevates the living experience and makes every hangout more enjoyable.
Aim for zero odor
The ultimate goal of any cleaning initiative should be to eradicate household odors. This calls for regular cleaning that addresses specific elements that prompt smells (like trash, for example) as well as airborne contaminants that can only be tackled through exceptional filtration. A high-quality cleaning system is a reliable strategy for dealing with odors that are difficult to pinpoint.
Natural Ways to Make the Home Smell Good
A fresh-smelling home should not require a lot of effort to achieve. A basic and consistent cleaning routine can pay dividends if carried out on a daily or weekly basis. Key tasks for making the house smell good should include:
Refresh carpets and rugs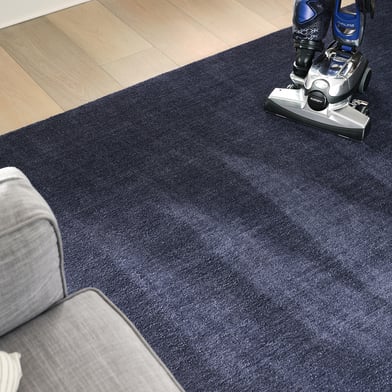 Odors cling to carpeting and rugs to the point that a faint smell will remain even when the remainder of the home appears to be squeaky clean. The best solution: complete a thorough shampooing for all carpeting and rugs. For daily vacuuming, add a carpet freshener to the routine. Simply sprinkle a light layer and vacuum thoroughly when ready.
Clean the garbage disposal
Not all food waste always makes it down the drain, and, unfortunately, when it's left behind, undesirable smells are to be expected. As food decays near the drain pipes or cutting blades, this odor will quickly grow worse. Baking soda and white vinegar can quickly kick the problem, but power flush may be the best option for achieving a deep clean: fill the kitchen sink with cold water before pulling the plug and allowing the garbage disposal to run until the sink is finally empty.
Empty the trash can
It seems simple, but an empty trash can make a world of difference. Food scraps, in particular, prompt strong odors as they begin to decompose. Separating compostables (and taking on the compost regularly) can help, as can tried-and-tested baking soda or even deodorizer drops. Ultimately, however, there is no substitute for daily cleanouts.
Tips for Making the Home Smell Great Anytime of the Year
Cleaning provides a strong start, but once the goal of zero odors has been achieved, it's worth adding pleasant scents to the mix. These won't cover up foul odors but make a nice addition once a strong baseline of cleanliness has been achieved. These are some of the best ways to make houses smell good:
Simmer herbs and fruit on the stove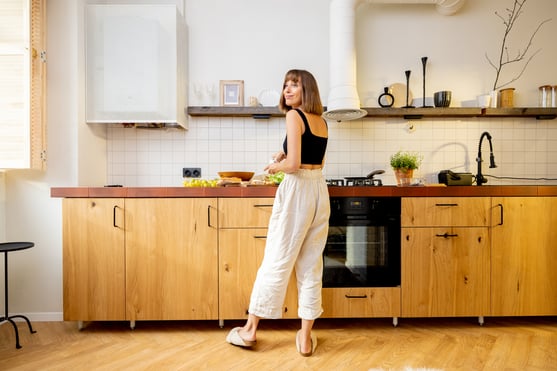 A simmer pot makes the kitchen smell wonderful, and often, those scents extend through the rest of the home. Sometimes referred to as stovetop potpourri, this involves fresh ingredients, which deliver a natural alternative to typical air fresheners. Recipes abound, but when in doubt, vanilla extract, rosemary, and lemon are sure to please.
Use seasonal scents
From pumpkin spice during the fall months to gingerbread for the holidays, seasonal scents abound. These can immediately evoke a festive atmosphere. Holiday simmer pots with cloves and cinnamon sticks are a safe bet during the winter, although candles and dried flower potpourri should also get the job done. During the spring, florals should dominate: cherry blossom and lavender are among the most evocative as the weather gets warmer.
Establish a signature scent for the home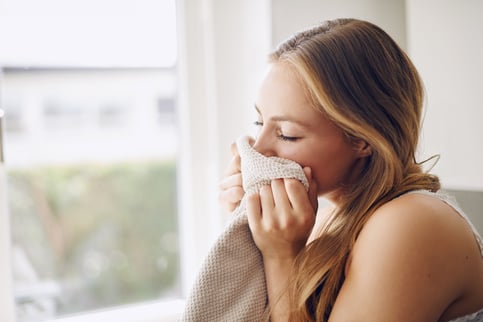 While seasonal scents can be delightful, there's nothing wrong with choosing one favorite and sticking with it year-round. This signature scent will quickly evoke a homey, welcoming feel, building strong associations of comfort. This makes returning home after a long day that much more enjoyable.
Any favorite scent is a strong candidate as long as it's used consistently throughout the home. Often, however, scents are carefully selected based on the decor. Fresh options like sandalwood are ideal for a farmhouse setting, for example, while cedar supports rustic, and the slightly tangy aroma of grapefruit is suited to a contemporary home.
Keep the abode fresh year-round
Annual spring cleaning is important, but spring should not be the only season for freshening up the home. Thorough cleaning initiatives should be planned and carried out on a seasonal basis, ensuring that, every few months, the home gets a full refresh. This includes not only shampooing the carpets but also addressing the upholstery, the curtains, and typically forgotten nooks and crannies.
Scatter candles throughout the house
Candles bring a lovely ambiance to any home, and, what's more, they can amplify signature or seasonal scents. They can also be quite visually appealing, bringing a multi-sensory experience to every room in which they're included. While these are most frequently found in master bedrooms, they can also add a lot to the general atmosphere if strategically placed in the mudroom, the living room, or the dining room.
Draw on the Power of Scent
Removing odor is the first step to making a home feel more welcoming without changing its layout or decor. Committing to a cleaning routine will make a huge difference. When foul smells are eliminated, and fresher, more appealing scents are added, any home feels more delightful.