How To Clean Heavily Soiled Carpet and Heavy Traffic Areas
Dirty carpets can be a common source of frustration or even embarrassment among people from all walks of life. Whether it's from messy kids, pets, or just the wear and tear of daily activity, it doesn't take much for a carpet to lose its luster and begin to fade.
High-traffic areas are particularly prone to soiled carpet, with entryways and hallways often bearing the brunt of the damage. Over time, these areas may deteriorate to a point where even thorough vacuuming cannot remove the unsightly stains and soiling, leaving them in an unacceptable state.
Dirty carpets call for targeted cleaning techniques, no matter the cause. Not just any strategy will remove major stains or embedded dirt. Vacuuming is important for removing general debris and preventing the problem from getting worse — but, at this point, only high-level carpet cleaners or full-on shampooing will remove that dull, grimy look.
Though this job is far from easy, with the right tools, techniques, and cleaning solutions, pristine carpets are possible. Keep reading to learn how to clean high-traffic carpet areas — and to discover how to make high-traffic carpet look new.
Always Start With Vacuuming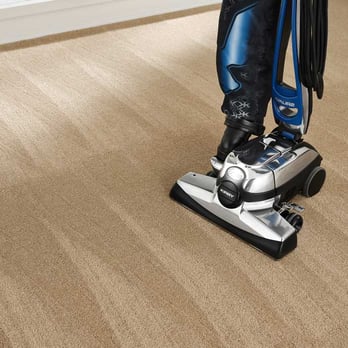 While vacuuming alone may not be sufficient for cleaning high-traffic areas that are carpeted (or at least, not when these appear to have reached the point of no return), this remains an important part of the cleaning process. It is difficult to tackle embedded dirt and major stains if loose debris gets in the way.
Use a high-quality vacuum to achieve a baseline clean before moving forward with a more thorough and targeted methodology. Depending on how extensive the soiling is or where the worst of the issue is concentrated, attachments may be needed to reach the most problematic nooks or crannies.
Deep Cleaning Strategies: Shampooing With Foam
Once loose debris is removed from the carpet, it's time to take a more targeted approach to carpet cleaning high-traffic areas. No one strategy will necessarily be ideal in every setting. A lot depends on the scope of the problem — but, steam cleaning and shampooing are optimal.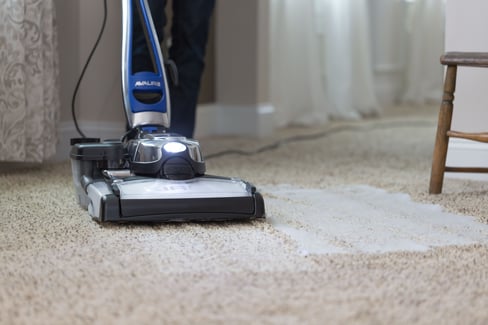 Thankfully, the best vacuum systems frequently incorporate shampooers. Emphasizing a thick foam, these shampooers strategically work the foam into the fibers to provide a deep clean while minimizing the potential for carpet damage.
Once the carpet has been thoroughly exposed to foam (but without being excessively saturated) a shampooing tray collects the foam and reveals a cleaner, more attractive carpet underneath. Allow the carpet to dry and ensure loved ones are directed away from these areas for the time being An alternative route should be clearly marked to ensure that high-traffic spots have the chance to dry.
How to Prevent Future Stains
High-traffic areas present a particularly difficult deep cleaning challenge because they inevitably attract more dirt and debris than other areas in the house. Preventative measures should be implemented to keep this to a minimum and limit the need for cleaning high-traffic carpet areas.
More frequent vacuuming with a higher-power cleaning system is the best solution for keeping high-traffic areas clean. Cleaning once a week should suffice for most of the home, though high-traffic spaces may require more frequent cleaning — especially if kids or pets frequent that area. Twice a week is optimal, although further vacuuming may be required on an as-needed basis.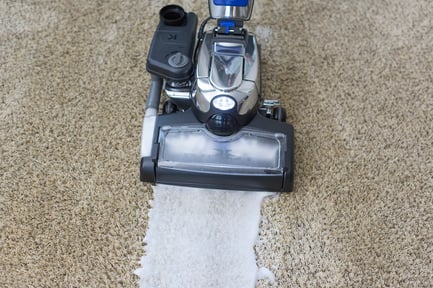 Prevention also largely depends on the selected shampooing or steam cleaning strategy. When carpets are excessively saturated, dirt can actually get more deeply embedded, prompting issues in the future. Therein lies the value of encapsulating polymers, which can dry quickly so any debris that remains can be easily removed once the carpet is dry and ready for vacuuming.
Finally, a no-shoes policy can go a long way toward minimizing embedded dirt, particularly within entryways. Most guests are happy to play along, especially if they find an easy place to remove and store their shoes. This preventative strategy should limit the need to clean high-traffic carpets.
High-traffic areas may be prone to soiling and staining, but these issues are far from inevitable. With a few tweaks and a strategic cleaning routine, it's possible to keep embedded dirt to a minimum. This will ensure that spaces can be made spick-and-span at a moment's notice — and that the cleaning process feels effortless. Discover the power of a low-effort, deep clean!